Absorbent Products – Pads:




Synthetic polypropylene pads are a low lint absorbent. Therefore, they are perfect for most environments.

 
Firstly, we have: Oil/Hydrocarbon – these are oil only and are hydrophobic and repel water.  Our oil absorbent pads are good for absorbing oil and hydrocarbon spills.  They also float on the water whilst absorbing any oil-based chemicals off the top.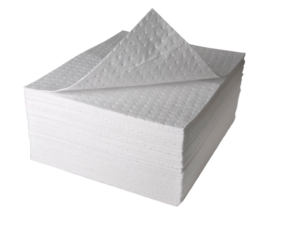 Secondly, we have Universal/General Purpose – great for oil, water-based liquids, and some solvents.   They are often referred to as a maintenance pad that can absorb most light chemicals.  In other words, these pads should not be used with strong acids, bases, or alkalis.
Thirdly, we have Chemical – very good for absorbing most aggressive or caustic fluids. In fact, they are good to use on hazardous or unknown liquid spills.
They absorb all liquids including water and are good for aggressive fluids such as caustic soda, hydrochloric acid, sulphuric acid, sodium hydroxide, and nitric acid.

Further in our absorbent pads, we have these polypropylene pad rolls that are perforated so they can be ripped off as required or rolled out under machinery.
We have the rolls in Oil/ Hydrocarbon or Universal/ General Purpose.
Sizes available:
Oil – 50cm width x 40m length roll and 90cm width x 40m length roll.      Universal – 90cm width x 40m length roll.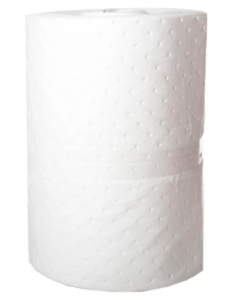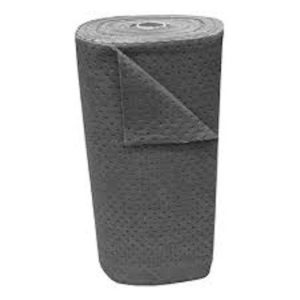 Absorbent Products –  Pillows:
Our pillows are great for jamming into hard to reach places and are super absorbent. There are four types of pillows:
Synthetic Oil/Hydrocarbon – Our synthetic oil-only absorbent pillows are made of polypropylene and quickly soak up oil.
You can use the pillows on land and water when you have oil to soak up.
Specifically, the pillows absorb hydrocarbons only.
Therefore, they are hydrophobic so they repel and float on water. 

Oil pillows absorb all hydrocarbons such as oil, petrol, fuel oil, diesel and lubricating oils.
Available in two sizes.

Organic Oil/Hydrocarbon – Our organic peat filled pillows are great for absorbing oil based spills.
Therefore they absorb oil, petrol and diesel spills.
Place under leaking drums or tanks to contain any drips.


Synthetic Universal / General Purpose – Our universal absorbent pillows are filled with polypropylene.
These pillows are great for jamming into hard to reach places and are super absorbent.
Therefore, they can also be placed under a leak or used to absorb a small puddle of chemicals.
They absorb water based fluids, oil, diesel, gas, coolants, cutting fluids, hydraulic fluids, vegetable oil, acetone, turpentine, ether, MEK, hexane, trichloroethylene, etc.


And Synthetic Chemical – Our chemical absorbent pillows can be safely used on almost any chemical including aggressive caustics and alkalis.
They are good for use on larger puddles, under leaking drums or equipment.  As a result, you can jam them in hard to reach places for clean up and to help contain a spill.

Absorbent Products – Socks:
We carry a full range of socks and booms.
For instance, there are containment and filtration socks and floating oil booms.  These come in a range of lengths and absorbency capacity.
As a result, we can cater to the needs of different types of  industries.
Organic Oil Sock – Our organic peat moss socks are for containing oil and hydrocarbon spills.

Therefore, they are the best option for placing around a drain or drain mat, as they are heavier than polypropylene socks so help to form a better seal.
Available in two lengths (1.2 metre, 2.4 metre).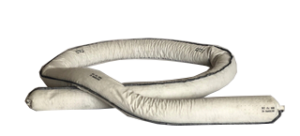 Polypropylene Synthetic Oil Sock – 

Our synthetic oil absorbent socks repel water and only absorb oil based fluids (hydrocarbons).  Therefore, they will not sink in water even if saturated with oil.   




These absorbent socks can easily be shaped or molded. Available in two lengths (1.2 metre, 2.4 metre and 3 metres).


Synthetic General Purpose / Universal – These Universal/General Purpose absorbent socks absorb both oil and water based liquids.
Therefore, these universal absorbent socks are for oils, coolants, solvents, water and mild acids and alkilis.
They are easy to mold and shape around leaky equipment and machinery.
Available in 1.2 metre and 3 metre lengths. 

As well as Synthetic Chemical – These chemical absorbent socks are soft and flexible enough to fit in tight confined spaces. Chemical absorbent socks absorb oil, water based liquids, acids, bases and many other fluids.
They absorb acids including high concentration of sulfuric acid (98%) and sodium hydroxide (30%)
Available in 1.2 metre and 3 metre lengths.  

Floating Oil Boom (Marine) –  

Our floating Oil Booms clip together to form a perimeter around a boat or oil spill on water. These booms are 3 metres in length and slightly overlap when clipped together.


Available in two sizes: 12.5cm x 3 metres (Up to 32L) and 20cm x 3 metres (Up to 72L)

 

Sediment Boom –

Our sediment Booms can be filled with gravel, sand or other.  They are made from tough UV resistant polymer material so it lasts and can even be driven over.




For instance, you can use these booms for erosion control, basic stormwater protection and more.




Simply close using cable ties. 




Three lengths available: 1200mm x 280mm,


2400mm x 280mm and 3000mm x 280mm  

Ultra Filter Sock – The 3m long filter sock can be used to put around stormwater catch pits. They allow water to pass through while stopping sediment.
For example, the sock can be filled with bark or pumice sand.
Looped ends allow units to be stacked in place and also assist in transport.
Absorbent Products – Particulates:
Absorbent particulates are used wherever fluids are stored, handled, dispensed and spilled.
For instance, they can be used on land, in the rain or on water.
Absorbent particulates can cover a large surface area and can be sprinkled onto and around the spill with precision.
Therefore making them ideal for cleaning up oil and fuel spills in wet environments.
Absorbent Peat:
Peat absorbs up to 4 times its dry weight in volume. One kilogram of fibre will absorb 3-5 litres of hydrocarbons.
Peat is non-leaching and self regenerating in it's natural state; environmentally friendly oil and chemical absorbent. Specifically, it cleans oil and petroleum based spills.
It has a powerful wicking action, which captures oils, solvents, heavy metals, pesticides. herbicides and all other organic chemicals on contact.
Effects differ from substance to substance and thickness.
Peat suppresses odours and absorbs hydrocarbons in dry and wet conditions.
Thus, making it effective on land or water especially around shorelines.
Sizes available:
10L, 16.5L, 50L, 100L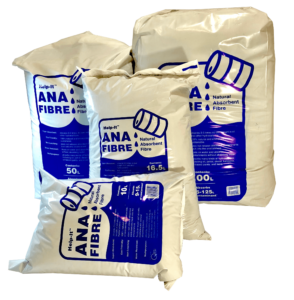 Mineral Sponge:
Our mineral sponge is not only able to physically absorb chemical spills, it can also chemically absorb it.
Mineral Sponge is a light weight clay, so is easy to handle but not too light that it can't be used in windy or draughty conditions. 
In particular, mineral sponge absorbs almost all liquids; acids, alkalis, oils, chemicals and petroleum products.
Available in 22L bag.  
Spill Fix:
Our spill fix is an industrial absorbent made from 100% renewable Coir peat. Therefore, it can absorb spills immediately and completely. 
This makes it suitable for hazardous spills including: oils, fuels, lubricants, paints and most chemicals and mild corrosives.
Available in 50L bag.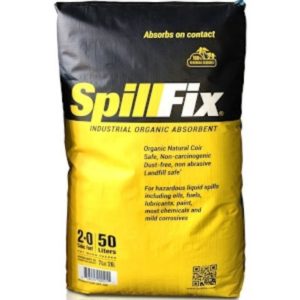 Spill Sorb:
Our spill sorb is an organic general purpose particulate made from recycled cellulose.
This increases the speed and ease of clean-up.
As a result, Spill Sorb has an excellent performance on rough surfaces like asphalt
or concrete.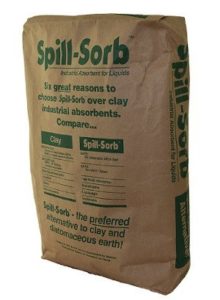 Soda Ash:
Our soda ash can be used for neutralising acid spills and is an odorless, white powder.  Thus, it is stable, not toxic or explosive or flammable.
Specifically making it ideal for use in any area where acid spills could occur including battery acid, except for hydrofluoric acid. Soda Ash works to ensure the dangers of the acid are neutralised, so that safe clean up and absorption can occur. Further, it is environmentally friendly and easy to use.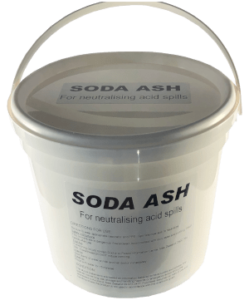 Body Fluid Powder:
Our body fluid powder is a fast acting, natural absorbent for cleaning up spills of body fluids such as blood, vomit, faeces and urine.
As a result, this makes those unpleasant jobs that much easier to tackle by eliminating odours, absorbing and coagulating the
spill.