Synthetic Polypropylene Pads are a low lint absorbent perfect for manufacturing environments. There are three types of pads:
Oil/Hydrocarbon

General Purpose

Chemical
Pillows are great for jamming into hard to reach places and are super absorbent. Can also be placed under a leak or used to absorb a small puddle of chemical substance. There are four types of pillows:
Organic Oil/Hydrocarbon

Synthetic General Purpose

Universal / General Purpose

Chemical
Enviropro carry a full range of containment socks, filtration socks and floating Oil booms in a range of lengths and absorbency capacity. We cater to the needs of all industries including but not limited to Civil Infrastructure, Manufacturing and Marine. If you don't see what you are after please feel free to reach out to us as we may have your solution.
Organic Oil Sock
Synthetic Polypropylene Oil Sock
General Purpose / Universal
Chemical
Floating Oil Boom (Marine)
Ultra – Sediment Boom (Empty)
Ultra Filter Sock – 3 metre
- Organic Oil Sock
- Synthetic Polypropylne Oil Sock
Our Oil Absorbent Socks repel water and only absorb oil based fluids (hydrocarbons). They will not sink in water even if saturated with oil. These Oil Absorbent Socks are available in three lengths (1.2 metre, 2.4 metre and 3 metres). Repel water, great for water applications Oil only spill socks are white in color so easy to see when saturated. Oil absorbent socks can easily be shaped or molded. Provides containment for oil spills.
- General Purpose / Universal
These General Purpose Absorbent socks absorb both oil and water based liquids and drips.Great for logistics and manufacturing applicationsEasy to mold and shape around leaky equipment and machinery. A great choice for non-aggressive fluids. Universal absorbent socks are for oils, coolants, solvents and water.These super absorbent socks are available in 1.2 metre and 3 metre lengths.These spill socks absorb all types of liquids.Absorb leaks and drips around the bases of your machines.
- Chemical
These chemical absorbent socks are soft and flexible enough to fit in tight confined spaces and absorb up to 10 times their weight in aggressive or non-aggressive fluids.
Chemical spill absorbent socks absorb oil, water based liquids, acids, bases and many other fluids.
Available in 1.2 metre, 2.4 metre and 3 metre lengths.
Can be used with aggressive fluids
Fit in tight confined spaces
Highly visible yellow
Absorbs a wide range of bases and unknown liquids
Absorbs acids including high concentration of sulfuric acid (98%) and sodium hydroxide (30%)
Perfect for quickly setting up a containment area
Polypropylene skin is tear and chemical resistant
- Floating Oil Boom (Marine)
- Ultra - Sediment Boom (Empty)
Sediment Booms can be filled with gravel, sand or other aggregate.
Made from tough UV resistant polymer material so it lasts and can even be driven over.
Use for erosion control, basic stormwater protection and more.
Simply close using cable ties. Two lengths available:
1200mm x 280mm
2400mm x 280mm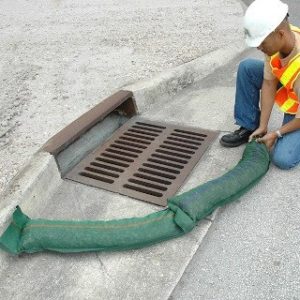 - Ultra Filter Sock - 3 metre
3m long filter sock to put around stormwater catch pits. Allows water to pass through while stopping sediment.
Woven polymer casing allows water to pass through quickly while filtration media inside removes pollutants.
Sock is filled with bark.
Looped ends allow units to be staked in place and also assist in transport.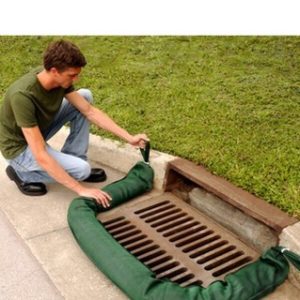 Absorbent particulates are used indoors or outdoors wherever fluids are stored, handled, dispensed and spilled – use on land, in the rain or on water. Absorbent particulates cover a large surface area and can be sprinkled onto and around the spill with precision.
Particulates are able to absorb up to 4 times their own weight in volume and have a fast-wicking action to clean up spills quickly, making them ideal for cleaning up oil and fuel spills in wet environments.